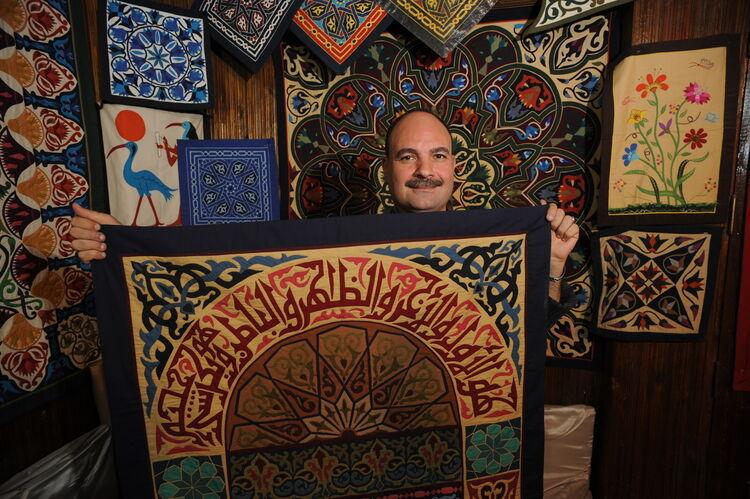 Art and Entertainment Window: June 24, 2021 | Diversions
DFAC announces upcoming workshops
DUNEDIN – The Dunedin Fine Art Center added several workshops with quilting and textile artists from around the world this summer.
The workshops are presented in conjunction with DFAC's summer exhibitions, which show work being done today with fabrics from around the world. Exhibits include Tentmakers of Cairo, Social Justice Sewing Academy, Cloth in Common, and The Return of Velvet Elvis. The exhibitions were presented on June 18th and will run until August 15th.
"E Pluribus Quilt", the first workshop, will take place on Saturday, July 24th, from 12 noon to 3 pm in the center. Tuition fees are $ 35 for DFAC members and $ 45 for non-members. The renowned quilter Joe Cunningham from San Francisco will take part in the workshop.
Cunningham began making quilts professionally in 1979 after a 10-year career as a musician in Michigan. His early mentors were deeply immersed in the history and traditions of quilting, which led Cunningham to study quilting history and a love of traditional technique. Over the years his quilts have developed into a unique, personal style. His quilts are in the permanent collections of museums as well as in numerous private collections. He has written extensively on the subject and has appeared on the Peabody Award-winning PBS series "Craft in America," the HGTV series "Simply Quilts with Alex Anderson," the PBS series "Sewing with Nancy," and "The Quilt Show "with Alex Anderson and Ricky Tims."
Cunningham's virtual workshop begins with a classic "Tin Man" quilt block. He does it more like he does in real life by first walking you through his system to free-hand the pad and then showing you how to make it any size and shape you want. The result is a complete variety of blocks, all made with the same technique but all unique, just like real people. A perfect workshop for using up scraps of fabric or using small pieces of all of the fabric in your stash. This 3-hour workshop also gives you an introduction to Cunningham's freehand cutting and sewing techniques, all in the comfort of your own sewing room. Students will be sent a recording of the course so that they can record it at any time for a week.
"Stitch Like an Egyptian", the second workshop, will be presented on Saturday, August 14th, from 10:00 am to 5:00 pm. The cost is $ 125 for DFAC members and $ 155 for non-members.
Ahmed Kamal and Tarek Abdelhay bring all their skills from the Cairo Market to Dunedin to share live and in person with the attendees. Egyptian tent making is a centuries-old, complicated craft. Passed on through generations, these magnificent hand-sewn textiles can now be found on the market in ancient Islamic Cairo. In this one-day, one-of-a-kind workshop, tent makers will share the brilliant techniques of this ancient art form.
To register and for information, visit www.dfac.org or call 727-298-3322.
COVID Ribbon Memorial opens at Creative Pinellas
LARGO – The COVID Ribbon Memorial, a public art exhibition by Cathy Tobias, will be on view in the courtyard outside Creative Pinellas, 12211 Walsingham Road, Largo starting Thursday June 24th.
Tobias created the exhibition to commemorate and commemorate the lives lost to COVID-19 in Florida. It consists of a growing strand of colorful ribbons tied by hand on a strong thread. Each tape represents a person who died from the virus in Florida.
The public is invited to a special opening event on Thursday, June 24th at 6 p.m. to commemorate the lost. Sharpies are available for guests who want to write the names of their loved ones on the tapes. People are also invited to bring a small, laminated photo to hang between the ribbons. The exhibition will be shown in the courtyard until Sunday, September 19.
Tobias – a photographer and visual artist – conceived the project to visually honor the lost lives and provide an opportunity for people to remember, mourn and heal together in their communities. She started the project in November 2020 and hired her sister along with a team of volunteers to tie ribbons when the death toll hit 16,000. With the help of many others, the memorial now has 37,400 tapes stretching the length of three soccer fields.
"Deeply saddened and overwhelmed by the rising death toll, I wanted to create something useful," said Tobias. "My head, my heart and my soul wanted to create something that was tangible and dimensionally interactive for the viewer. The story, reality and the extent of the lives lost needed a voice. "
The memorial first appeared on Anna Maria Island and was also on display at the Morean Center for Clay in St. Petersburg. Creative Pinellas will be the third location to host the installation in Florida. The COVID Ribbon Memorial has expanded beyond Florida to other states such as Connecticut, New York, and Minnesota. Tobias plans to continue to attach ribbons and share the memorial with other places in the area to give people a physical space to mourn, share their stories and reflect on the extent of this tragedy and heal together.
"We are very honored to be able to host such a moving exhibition," said Barbara St. Clair, CEO of Creative Pinellas. "That's why art and artists are so important and that's why we do what we do. The artist Cathy Tobias has constructed a physical representation of the over 37,000 people lost to COVID-19 in Florida, which is a visually stunning work of art and an interactive and communal way for people to mourn. "
Details about the COVID Ribbon Memorial and the opening event can be found at Creativepinellas.org/covid-ribbon-memorial. For more information about Creative Pinellas and all of its programs, grants and events, please email Sherri Kelly at sherri.kelly@creativepinellas.org.
Artist proposals wanted for the art project Waterfront Park
SAFETY HARBOR – To celebrate the Native American history of Safety Harbor, the city is seeking suggestions from artists or teams to create one or more free-standing works of art for Waterfront Park at 105 Veterans Memorial Lane in Safety Harbor.
With the aim of the project to create a community identity by celebrating the history of the city and Native American people, participation is open to all artists and teams over the age of 18 residing in the United States. To apply, review the application and requirements online at cityofsafetyharbor.com/PAC. The application deadline is July 30, 2021, 4:00 p.m.
For more information, contact Shannon Schafer at 727-724-1562 ext. 1516, or send an email to sschafer@cityofsafetyharbor.com.
Zubrick Magic Theater tickets on sale now
ST. PETERSBURG – Tickets for the Zubrick Magic Theater are now available online at ZubrickMagic.com.
The first public performance will take place on Thursday, July 29th, at 7 p.m. Tickets are $ 40 per person, plus taxes and fees for ages 4 and over. Children aged 3 and under are free when sitting on an adult's lap. A limited number of VIP packages offer premium front row seating for two, two drinks, a popcorn, and a special gift for $ 117 plus taxes and fees.
The show features award-winning illusionists Chris and Ryan Zubrick.
"The dream of opening your own magical theater dragged on for years, from traveling the country to find the perfect place to building the stage to ordering curtains," said Chris. "We were drawn to the vibrant arts and entertainment scene in St. Petersburg and felt that the opening of our theater here would be a refreshing addition to the local scene.
"We put so much time and love into this theater," added Ryan. "We couldn't be more excited to finally perform again, something we've been doing since we were kids.
Originally from Michigan, where they grew up, Chris and Ryan met during their wizarding careers and decided to do their show overseas in the islands of Saipan and Guam. After playing more than 7,500 shows for more than 2 million people, they decided to bring their amazing magic and great illusion back to the United States.
The 70-minute performances at the Zubrick Magic Theater take place Thursday, Friday and Saturday evenings. The doors open at 6 p.m. and the show starts punctually at 7 p.m. For more information, see ZubrickMagic.com.
To submit arts and entertainment news, email Editorial@TBNweekly.com. Entries can also be faxed to the office at 727-397-5900, or mailed to Tampa Bay Newspapers, 9911 Seminole Blvd., Seminole, FL 33772. Please include contact information with all submissions. Announcements are printed when space permits.