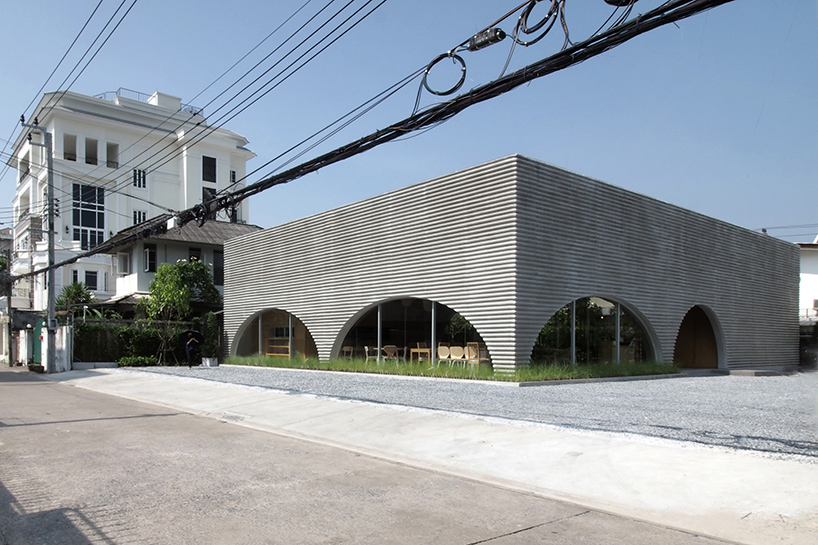 ASWA wraps new restaurant in Bangkok in corrugated concrete form
aswa completes the eye-catching cafe Khao Niao + Onda in Bangkok
in bangkok, Thailandsits the new Khao Niao + Onda Café with an eye-catcher facade. Designed by ASWAthe restaurant shows a finished part concrete exterior with rippled surfaces that are sharply angled at the front and gently curve at the rear like a wave. Its L-shaped structure houses a one-story cafe and restaurant, both of which are set to become popular destinations in the area. The solid gray facade is punctuated by a series of arched openings and windows that allow light and wind to flood in.
all images courtesy of ASWA
a sculptural concrete volume hugging a central courtyard
The Khao Niao + Onda Café extends over 290 m² and reaches a height of six meters by ASWA (see more here) hides a private courtyard on the opposite side of the main street. Surrounding this semi-outdoor space are the L-legs of the building. The first section houses the main restaurant and kitchen, while the second welcomes guests in a café and includes all service areas. Both areas offer a beautiful view of the courtyard where small events and gatherings can take place.
Material wise, the structure consists primarily of a precast concrete form that is prepared and mixed on site by a contractor. Using a corrugated roof tile to cast a modular 1.2m x 2.4m mold, he later assembled the module into a larger 6m x 8m mold to cast all the facade panels. The arched openings were then carved out, revealing a wood paneled and light filled interior.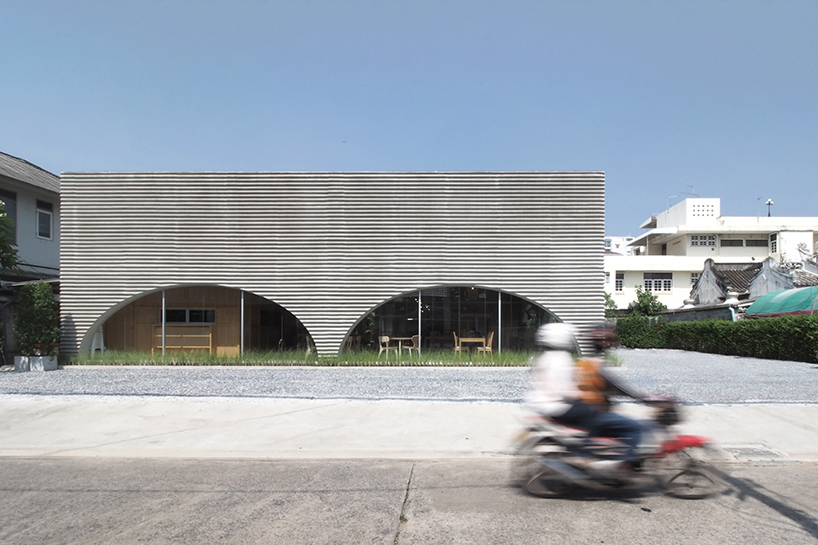 ASWA wraps the restaurant in a corrugated precast concrete façade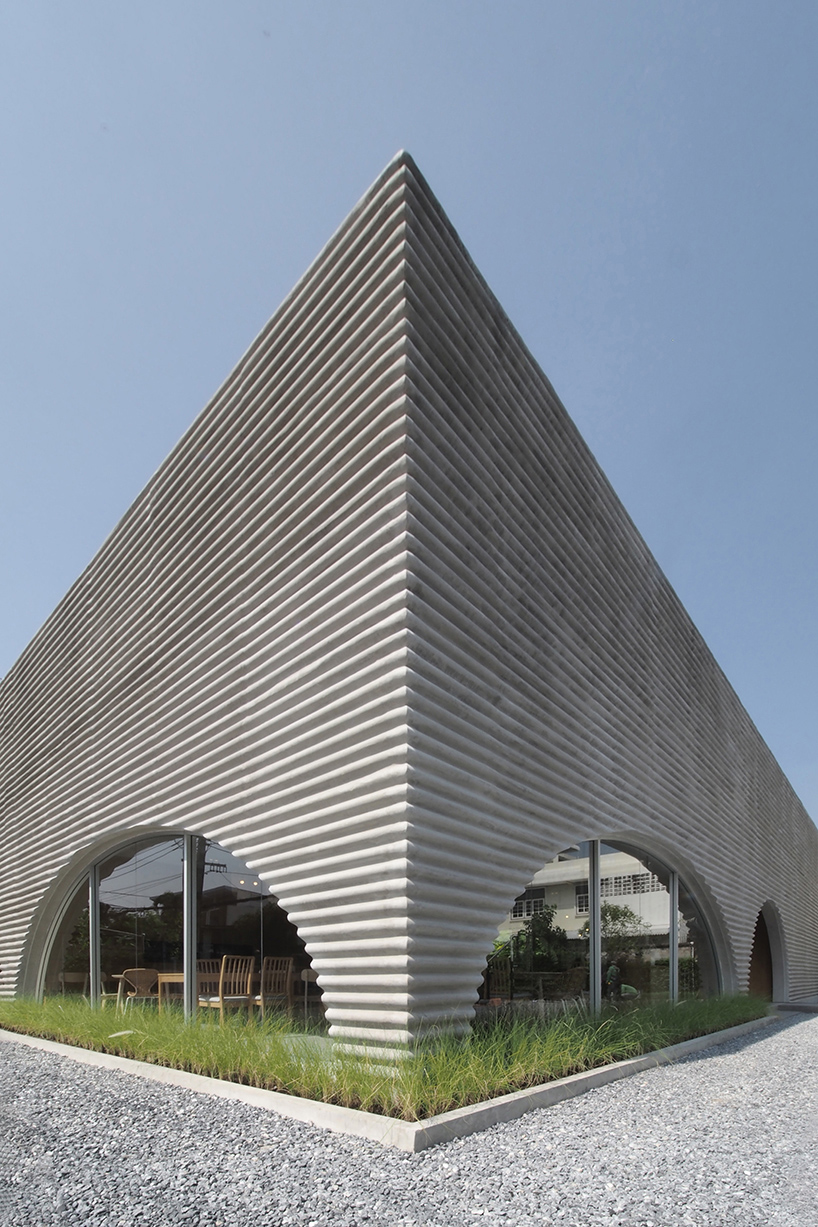 solid lines wrap off sharply at an angle from the front of the restaurant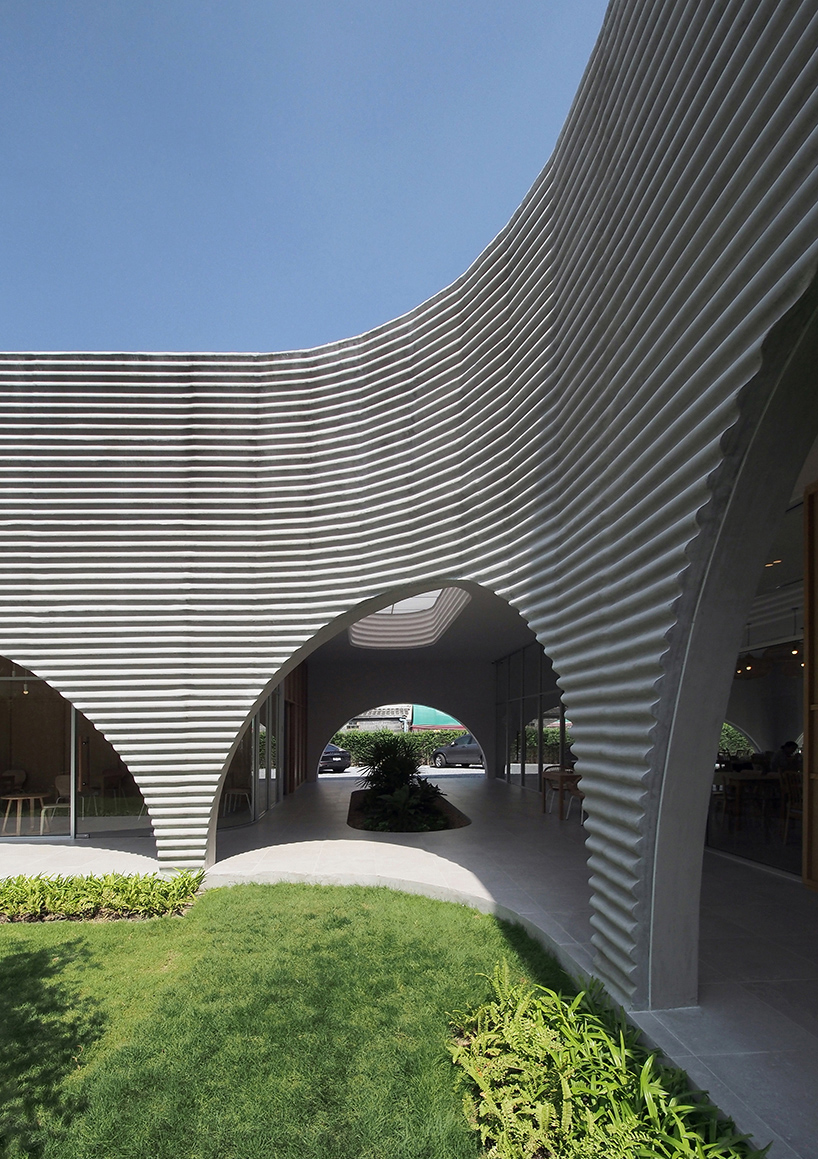 the courtyard is embraced by a curved facade