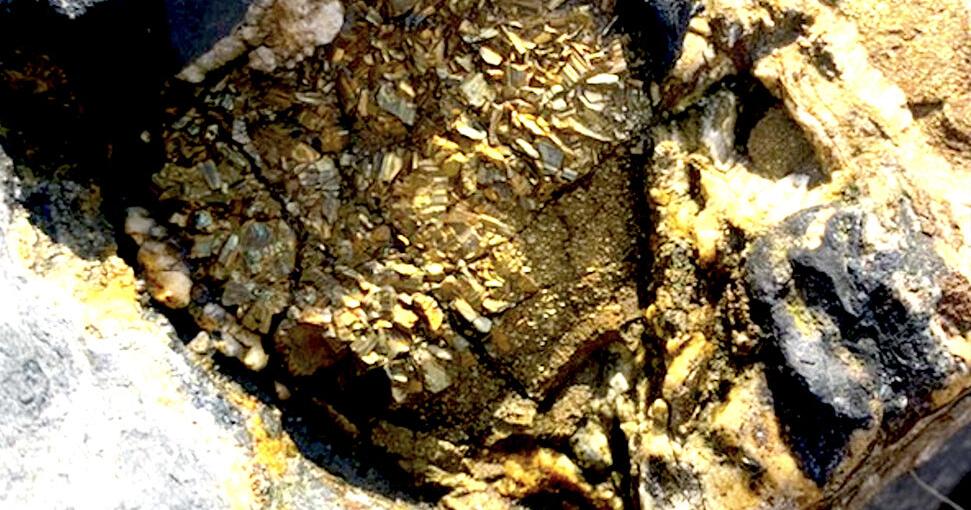 Brattleboro writer, editor named Sundog Poetry Winner | Arts and Culture
BRATTLEBORO – Before Michael Fleming, winner of the latest Sundog Poetry Book Award, walked out of the room at the end of our last conversation, he remarked that I hadn't asked about Wyoming, the state where he spent the first 18 years of his life.
"My heart is there. It was there that I first learned about poetry," he said.
His home state is not specifically mentioned in the poems in Bags and Tools, the collection that earned him the Sundog Poetry Center's annual award. But he credits his English teachers there with helping him find his love of words and the vastness of the landscape that shaped his sensibilities. In Wyoming, he said, being the least populated state (Vermont is the second largest), you can be 50 miles from the nearest person.
"Poets really are voices in the wilderness, and Wyoming has a lot of wilderness."
The Sundog Poetry Center in Johnson, recently named Fleming, of Brattleboro, winner of the 2021 Sundog Poetry Book Award for the manuscript that became "Bags and Tools" and was selected by poet Vievee Francis. The volume of poetry, Fleming's first, is published in Brattleboro in association with Green Writers Press.
There will be a book launch at Next Stage Arts in Putney on Friday at 7pm in honor of National Poetry Month. Fleming will read from his new book, which will be available at the event.
Frances Cannon, executive director of the Sundog Poetry Center, said Fleming's poetry reflects a wide range of research topics, from archeology to outer space. A notes section at the end of the book cites some of Fleming's sources.
She likened the book to a collection of myths or fables open to any interpretation.
"Every time I read the book, I come up with a new interpretation, which I think is a really enjoyable reading experience for anyone who could pick up the book. There's always a new layer," she said.
Fleming, 64, lives in the city with his partner, the psychologist and author Martha Straus (the dedication of his book is "for Marti") and a few cats. A longtime writer and editor, he was also a teacher, graduate student, and carpenter. He has edited literary anthologies for WW Norton and several volumes of fiction, non-fiction, prose and poetry.
Born in San Francisco, his family moved to Casper, Wyo when he was a baby. He attended Princeton University and his first job out of college was working in refugee camps in Thailand. He graduated from Oxford University and has since lived and worked in Swaziland, California, New York City, New Hampshire and, for the past 14 years, in Brattleboro.
All of these places influenced the poems of "Bags and Tools" in one way or another, Fleming said, beginning with the poem from which the title is derived. The poem "Bags and Tools" is the only one in the book written decades before the others that was inspired by a Zen story. While living in Thailand, Fleming became immersed in Buddhism, which led him to learn about the Zen tradition.
Of the places he has traveled to, he said the Thailand experience was the most formative.
"It really radically changed my view of myself and the world," he said. "And I really started writing poetry there."
At this time his exposure to poetry was mainly through academics. His bachelor's degree was in English and he won a Rhodes Scholarship which allowed him to study Medieval English at New College, Oxford.
It was not until he met and married a New York poet that he entered the world of living poetry and reading.
"It was a real eye opener living in New York," he said.
Then, when he moved to Brattleboro, he joined the writing group founded by author Suzanne Kingsbury, where many of the poems in Bags and Tools were written. He wrote prose for the first few weeks of his participation in the group and then switched to poetry, which made it better for him to complete something within the hour's timeframe.
"After years of working on a novel – which never seems to get finished – it's been so great to get things done," he said. "I love the opportunity to use poetry as a medium for storytelling."
Among the longest poems in the book is "Corona," which describes line by line how the pandemic has changed our world, with observations like "In the beginning it was just a word… one more thing to think about." The things begin to turn as "It began to cover the sun," a metaphor inspired by a 2017 solar eclipse that Fleming observed from his hometown of Casper.
"It's a life-changing thing to see a total solar eclipse," he said.
The poem is divided into seven sections, which is no coincidence – a group of seven sonnets is referred to as the 'crown of sonnets', and 'corona' means 'crown' in Latin.
When asked how his lines got to him, he said many are under pressure to write in a timed group.
"We know we're going to be taking turns reading at the end of the lesson, and that focuses the mind," he said. The rest of the time he carries a notebook and pen with him to jot down ideas.
After Fleming's manuscript was declared the winner of the competition, which meant it would be turned into a book, Cannon, the Poetry Center's executive director, stepped in as an illustrator.
Among the poems that most inspired her drawing was "Otzi" about Europe's oldest known natural mummy, found in 1991 with a range of Stone Age weapons and tools. She said Fleming's poem stimulated some of her own research into visual representations of the mummy's tools.
"He embodies many different voices," she said of Fleming's writing. The characters, she said, are both fictional and autobiographical, and each has their own "tools," both practical and metaphorical.
"It gave me a lot of visual fodder," she said.
Cannon from Burlington also took the cover photo for the book. She had been strolling along the Charlotte waterfront with her dog and partner when she was looking in the rock and found what appeared to be pyrite, also known as fool's gold.
"One reason I shared this with Michael as a potential cover is that I feel like on the surface this book is very accessible – it feels really humble and talkative and accessible – but then it has this timeless, ancient depth," she said.
Friday's reading will be the first time Fleming has met Cannon and others at the Sundog Poetry Center in person. He looks forward to reading his work aloud.
"I think of these as scripts. This isn't a poem. It's the script of a poem. The poem is when there's a sound in the air and someone listens to that sound," he said. "And so a reading makes the poems true."