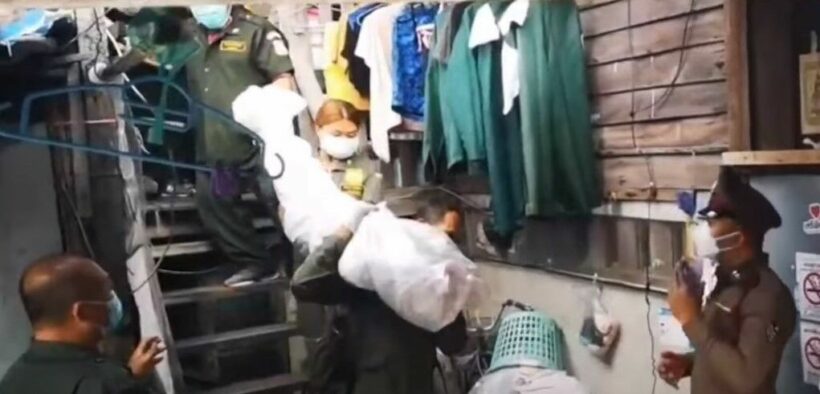 Former air force officer murders ex-girlfriend and her new boyfriend in Bangkok
A former Royal Thai Air Force officer murdered his ex-girlfriend and her new boyfriend at a house in Bangkok's Ratchathewi district yesterday morning. The perpetrator broke into the couple's home and shot dead 24-year-old Fah and 25-year-old Korakot before fleeing the home. Fah was shot twice in the head and body and Korakot was shot six times in his body. Both were pronounced dead at the scene.
Korakot's uncle Anupon Sawangnoi, who lives next door, told police he heard gunshots yesterday morning. Anupon rushed to his nephew's room and found Fah and Korakot both lying dead next to each other. The shooter had already fled the scene. Anupon said he heard no argument or argument before the shooting and expected it to be a brokered and well-planned attack on the pair.
Police at Phaya Thai Police Station conducted an investigation into the incident and concluded that the gunman is Fah's ex-boyfriend, a 24-year-old former Air Force officer named Morakot "Shirt" Praparoj. Police found that Fah had broken up with Shirt, who allegedly abused her, and was living with her new boyfriend, Korakot, in a wooden house in Sa Kaeo township, Ratchathewi.
Police investigations revealed that Shirt had visited the community several times in search of the couple, and a resident, a 19-year-old man, gave him the correct address of where the couple lived.
Korakot's father said his son had never been in a conflict with anyone before. He didn't know that Fah lived with his Korakot until the murder happened. He believed a love triangle was the cause of the incident.
Phaya Thai Police Station Superintendent Borwonphop Sunthornlakha said officers knew the shooter's escape route and were in the process of reviewing surveillance camera footage to confirm his identity and help locate him. Officers said they also know the identity of the teenager who gave the shooter an address and need to question him further to decide whether or not to prosecute him.
SOURCE: Thairath