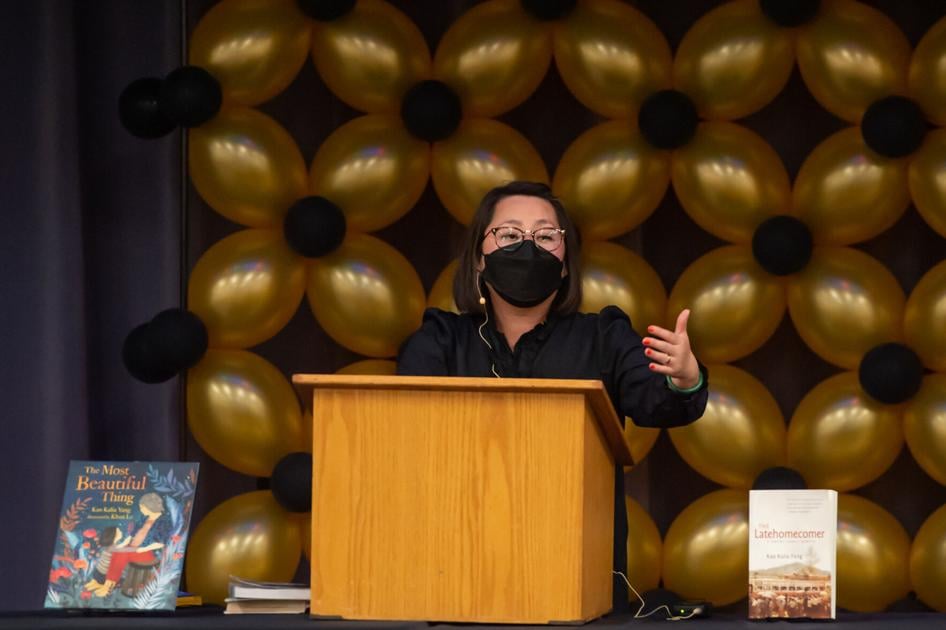 Former selectively silent Hmong-American author speaks to students | campus
Kao Kalia Yang, a Hmong American writer, did not speak until her first book, The Latecomer: A Hmong Family Memoir, was published.
"Every time I tried to speak, the other children laughed because my words were so rusty," she said. "And so I came to a place where I could no longer speak."
Yang said she was a selective mute throughout high school and college. She just nodded and used a different body language while she started whispering a bit in grad school.
In 2008, when her first book was published – the first literary novel by a Hmong American published in the United States – she spoke to about 300 people.
"The day it came out was the first day in my entire American experience that I spoke to be heard. I grew up being a selective mute in (English) mostly, "said Yang. "I can speak Hmong so easily; it's a song on my lips. "
Yang read parts of "The Latecomer: A Hmong Family Memoir" and another of her books "Somewhere in the Unknown World", which records the stories of refugees in Minnesota, in front of a crowd of around 20 to 30 people on Monday evening.
Audrey Middaugh, a freshman at the College of Health and Human Sciences, is reading the book for an Asia-American Studies course and said it was her favorite book she'd read in class so far.
"It's extremely moving and I don't read a lot of memoirs," she said. "I don't read a lot of non-fiction and I love the book."
Middaugh and other viewers agreed with Yang's emphasis on story sharing.
"What I took away was that she was a voice for marginalized communities," said Katriel Lin, a freshman at the College of Liberal Arts. "She was inspired to use her storytelling gift to inspire the younger generation like us."
Yang herself was born in a refugee camp in Thailand and lived there until she was around six and a half years old when her family came to the United States as refugees from the Laos war.
Her first book was a "love letter to her grandmother," Yang said, and later added that all of her writing was "a love letter to someone somewhere." She has also written memoirs about her father and is working on a book about her mother.
In addition to these stories, she has written several children's novels, and her teenage novel, The Diamond Explorer, is due out in 2023.
Yang read from her work and spoke about the lack of Hmong representations, not only in history but also in literature. She stressed the importance of sharing her words and her story.
"Barnes & Noble and Borders said, 'We don't want to take this book with us. Who wants to visit another sad chapter of the Vietnam War? '"Yang said," But then the teachers who had taught me went into the shops and said,' We want this book. '"
This is how Kao Kalia Yang's books ended up in the big boxes.
Yang read from her book, part of which told how she learned to explain who the Hmong were, and said, "Hmong are an ethnic minority. We have no land. We're looking for a home here. "
After publishing her first book, she said she would ask refugees to write about her stories.
"We live in a world that is producing more refugees every minute," she said. "And because I came from a marginalized environment … I said, 'No, let me teach you to write so your children can write your story, so your brother, your sister can write your story."
After the election of former President Donald Trump in 2016, she said she knew the world was changing and took on the task of writing her collective refugee memoir.
She read an excerpt from that book about an Afghan. The story told of an Afghan attempted to leave Afghanistan after being threatened by the Taliban.
"What happened in Afghanistan is so similar to what happened to my people," said Yang, referring to the recent seizure of power by the Taliban after the US withdrew from the country. "The Afghanistan story is the Afghanistan story; the Hmong history is the Hmong history, but we represent some parallels in world history, in the lessons that were never learned about humanity. "
Yang recently said that after the takeover, the Taliban came and asked the man's family where he was. The Taliban threatened to beat the Afghan's father, and the man turned to Yang for humanitarian aid for his family.
"This is a living, breathing story," she said. "I do my job because I believe that our stories have the power to change forever and improve our human lives."