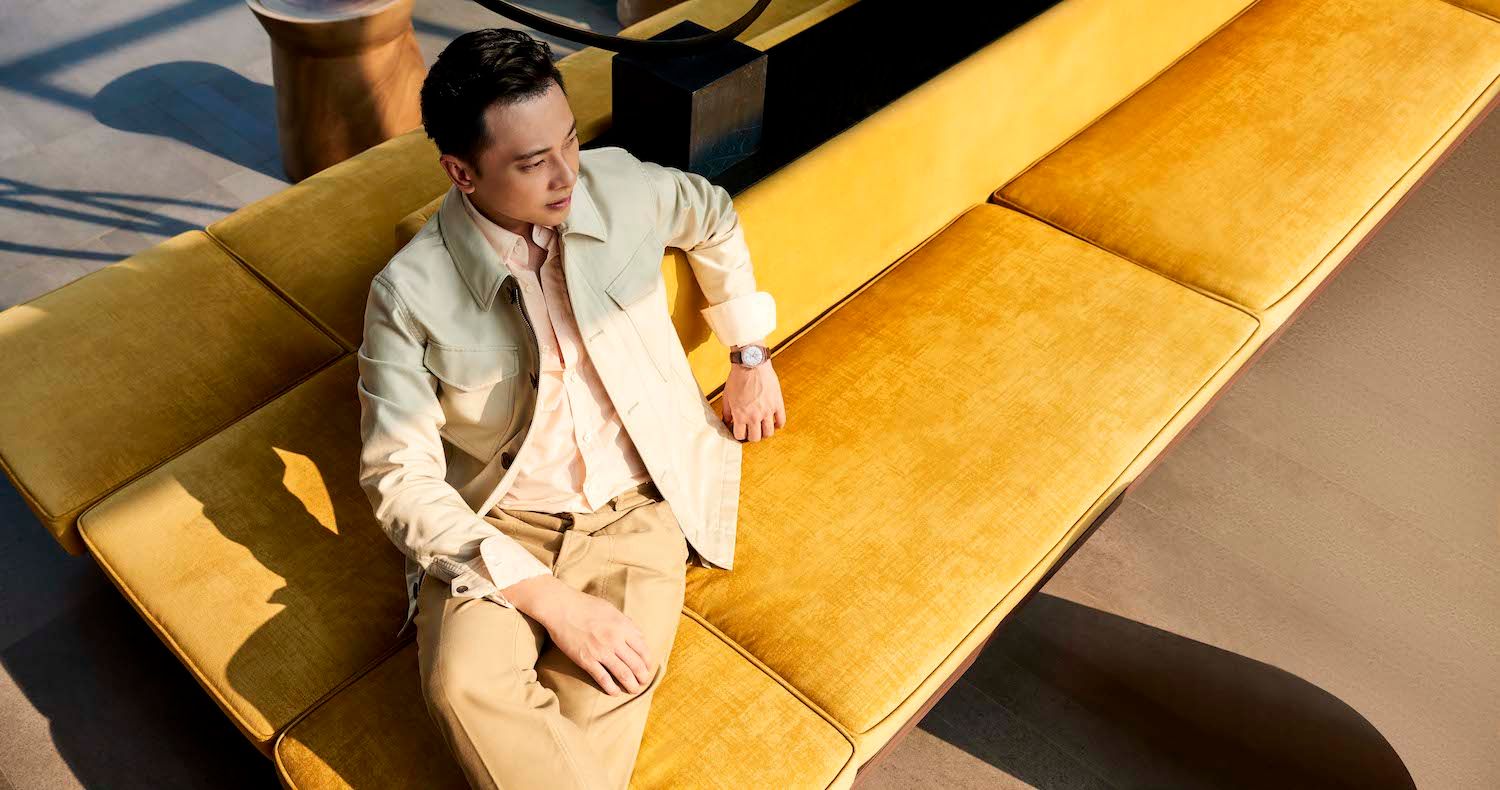 How Sarawut "Yoon" Rachanakul strives for a greener future
JBP International Paint Co Ltd's second generation heir, Sarawut "Yoon" Rachanakul, shares his views on being the "nice guy" and how he strives to create a greener, more sustainable industry.
Always the true gentleman – which, mind you, can be hard to come by these days – Sarawut "Yoon" Rachanakul's all-around nice guy dynamic pervades all facets of his life. As well as leading his family's business as CEO of JBP International Paint Co Ltd, Yoon was also appointed President of the Thailand Paint Manufacturers Association (TPMA) just before the Covid-19 crisis.
Curveballs that have come with the pandemic have presented this color product tycoon with additional challenges, but while his tenure as president of the federation is now coming to an end, Yoon remains steadfast in his vision of making the industry do more to be. friendly", both in terms of public health and the global ecosystem. When we sat down with him for a brief chat, Yoon shared with us his vision for the company and his overall philosophy on life. Here's what he shared.
Put others first
"When asked 'What else do I want to do?' it all comes down to the question, 'How can I make things better for the people around me and the environment?'" Yoon tells us simply. "Whether it's about more sustainable development in the paint industry or something completely different, the main concept behind everything I do." With such a socially responsible and thoughtful leader at the helm, it's interesting to see where this empathetic leader is taking this JBP Paint empire will advance.
Start with your passions
Despite his Thai-Chinese background and as an only son, Yoon grew up completely unencumbered by any apparent expectations of eventually taking over the family business. Interestingly, it was his own interests that would prepare him for the role that awaited him later.
"I've loved studying chemistry since high school," he says of his formative years at Saint John's School. "I like numbers and science, so it was the only subject I really enjoyed tutoring in schools. When I first started working at JBP, I liked looking at the paint colors and chemical formulas because I could understand them. I didn't mind at all."
dream big
After earning a bachelor's degree in marketing from Kasetsart University and a marketing master's degree from Monash University in Australia, Yoon was called upon to step in as JBP Paint experienced transitional changes and restructuring.
The youngest son of Chongkol and Lamjiak Rachanakul, Yoon is the second-generation direct heir to JBP, which his family has run for 44 years. His goals envision JBP one day becoming one of the top three paint brands in Thailand and also having a larger presence in Asia – beyond the markets of Cambodia, Laos, Myanmar and Vietnam, which they have already penetrated.
Use your resources
When Yoon first joined the company 14 years ago, he was a first jober who enthusiastically managed many different departments. "Back then there was no marketing because the business was purely geared towards costs and sales. I helped expand marketing for the company," he recalls, pointing to the good use of his university degree.
One of his proudest achievements, he recalls, was introducing new machines and semi-automatic robots to the factory. "It was very difficult for me to implement new machines and technology in our factory as I had no technical background. When it was first installed we had issues with not producing enough to meet demand," he continues, "but we overcame those issues and I was then able to pass on the knowledge of how to use the machines. I wanted to upgrade by bringing in all these new technologies, so I just had to clear things up.
"No matter what you do, if you want to improve, there is an opportunity for both success and failure. If you want to change, you have to be a person who is brave enough to take on the challenge and who takes risks even when failure is a possibility."

Know your values ​​and stick to them
Reflecting Yoon's emphasis on sustainability, JBP's Airclean Plus Antimicrobial Paint & Primer in One received the 2020 Asia Star Award recognized by the Asian Packaging Federation for its eco-friendly packaging. The paint itself offers all-in-one convenience, no odors and anti-bacterial properties. Most importantly, the packaging that contains the paint is a fascinating achievement as it is made from recycled material.
"Color packaging needs to be durable, but if recycled materials are used, they can't hold as much weight, and the cost also gets higher," explains Yoon. "Even with paint, the greener you want to go, the higher the cost to get the same durability, because a paint's ability to withstand the forces of nature over its lifetime depends on the chemicals used. Finding the delicate balance for this duality means creating new value within the industry. This is the main initiative I wanted to advance at TPMA; to develop the sustainability of the coatings industry. Our product that won the award is a model that we hope others will follow."
community affairs
Alongside his quest for a greener world, Yoon's philanthropic entrepreneurship has seen the launch of JBP Home and JBP Care, both launched by the Covid situation and relating to a range of surface and fabric cleaning products the company is already using existing products produces chemicals that are readily available. Although they are now sold online, they were originally created as a show of care, to be sent to the company's employees, agents and suppliers.
"Everyone around us was suffering and I thought, 'How can we ease it?' People were spending more money on masks and rubbing alcohol than they used to, so we wanted to take care of and support our employees. We can make our own dishwashing, laundry, fabric softener and cleaning products and have offered these to our staff at our refill stations free of charge. It might not be much, but at least it helps them worry one less thing."
Selfless feelings can go a long way
"The first thing to think about isn't yourself, it's the greater good," Yoon says with a smile. "You will never be successful if you only think about yourself. If you want to be successful, you have to put others first and reassure them. After that, it's all about having enough determination, willpower, and good intentions. People who don't succeed usually give up first because they aren't steadfast enough in their pursuit."
Reward yourself when you deserve it
Never demanding material rewards for achieving his goals, this reserved manager admits that "simple success" is more than enough to keep him happy. While not a slave to big brands, Yoon admits that like most men, he appreciates a quality watch. With a penchant for gold and rose gold, one of his favorite OMEGA watches – which he wore during our prestige shoot – is the Bronze Gold Speedmaster Chronograph.
"OMEGA is a quality brand known around the world," he says of the renowned Swiss watch manufacturer. "The brand language isn't just about luxury, it's also about craftsmanship, which I admire. I like all the changes OMEGA has made and I like their timepieces even more now. The current models are very contemporary and go a long way in terms of innovation. I even know Hyun Bin is an OMEGA ambassador, although I don't watch a K-series because another favorite watch of mine is the Seamaster Diver, which he also wore."
Be understanding, empathetic, and compassionate.
Back when travel restrictions were no obstacle, Yoon often visited South Korea, the native country of his actress wife Shin Joo-ah. While the happy husband is grateful that the pandemic allowed them to live together in Bangkok for eight straight months, he is careful to support his wife's career and personal life. Joo-ah has flown back to her home country since her marriage and is currently in South Korea filming TV series and variety shows.
"I feel for her," he explains, "that she misses her family, friends and even her food. It's difficult to uproot your life to move to another country, so I encourage you to visit your family and friends."
When asked how he's approaching his marriage, Yoon explains that he takes the same kind and selfless approach he takes to his work and embodies the rare, gentlemanly "nice guy".
"You have to be understanding and empathetic. When dealing with adults and people who think differently, it is important to put yourself in their shoes as much as possible. Respecting your choices, mindset, tastes and preferences will help things run smoothly. Never be quick to judge and always be… well… nice."
Read the full story of Sarawut "Yoon" Rachanakul in the April issue of Prestige Thailand, available now in leading bookstores nationwide.
Photographer: Kritsada Hasapark
Photographer's Assistant: Anop Chapakdee & Nattapol Cheepchol
Stylist: Naphat Thanabulanun
Stylist's Assistant: Ampon Akemahrchai
Makeup artist: Chalermphol Wivatthana
Hairdresser: Montree Thurdkiatisak
Producer: Samila Venin
Editorial Coordinator: Kanyaphat Somwong
Watches: Omega
Location: Sethasiri Charan-Pinklao 2