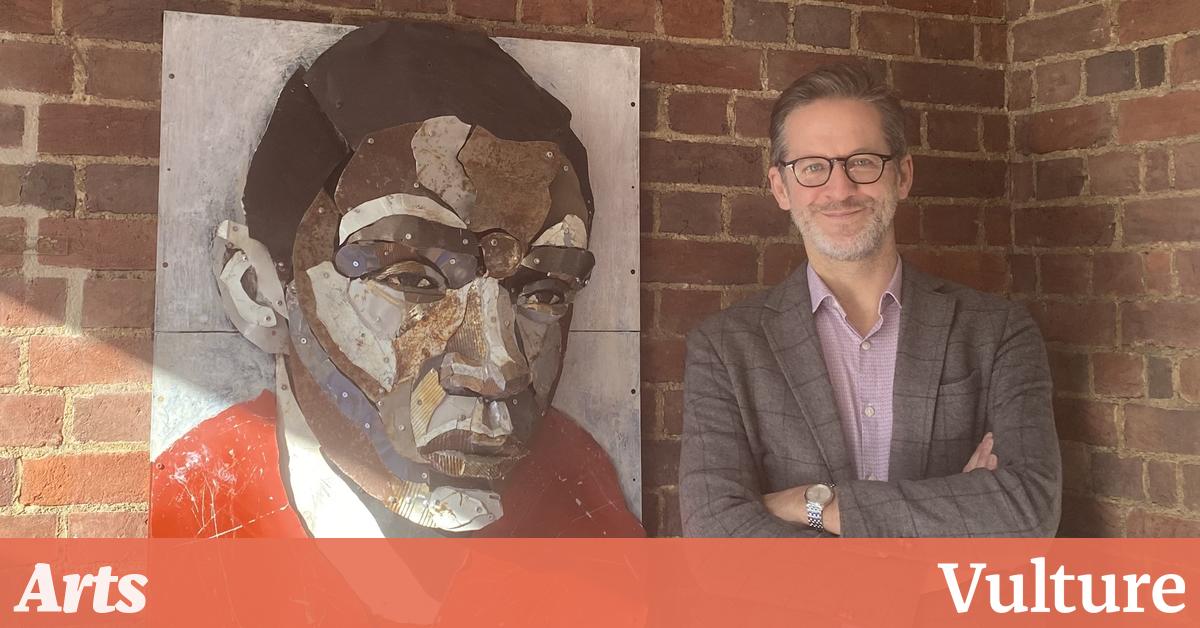 "I enjoy when people enjoy the works in my collection": Meet Robinson College's art-collecting director
Most people will be surprised when they hear that a student has entered his college master's house once — let alone four times. But Sir Richard Heaton, the Headmaster of Robinson College (the red brick term for 'masters') has made this possible by generously opening his Headmasters' Box to a variety of events over the past year. From composing poetry from cut-out words on his patio to enjoying a cheese and wine evening in the dining room, the highlight of each event was viewing the impressive art collection that adorns his home.
"I don't feel remotely exploitative or elitist playing in this market."
Sir Richard tells me the first real work of art he 'purchased commercially' was when 'there was a pop-up show called Affordable Scottish Art' while he was performing at the Edinburgh Fringe. He vividly recounts "many colorful Glasgow paintings" from which he chose his first piece. But it wasn't until he brought it home and his mother remarked, "You're going to be an art collector," that this one-time purchase turned into a lifelong habit. He claims he "didn't really think anything of it at the time. But she was right. I've always wanted to surround myself with images. And I've always enjoyed the process of selecting and buying and talking to artists."
It is this process of discovery and interaction that draws Sir Richard most into the world of art. He states that he is "not a collector in the frieze art sense of the word" – referring to the huge and expensive frieze art fairs in London. Although he likes going to the Frieze to "look around as a fascinated tourist", he prefers to find his pieces from individual artists. He explains that collecting art can be an "extraordinary world of wealthy individuals"; and investments; and hedging; and all sorts of things I'm just not particularly interested in. And I can't afford to be interested in it," he jokes. For him, "One of the instigators of the charge of elitism is that when you buy contemporary work, you're either making high-end purchases." Sir Richard argues the other case is when "you are buying directly from artists". He claims, "If they sell something early in their career, that's a pretty good thing. So I don't feel remotely exploitative or elitist playing in this market. I have no excuse for that."
But for some, the elitism goes beyond the cost. The experience of art is elitist, with many feeling self-conscious that they are expected to read and respond to pieces in a certain way. However, the overseer insists that "people don't need to be taught to respond to colors and shapes, emotions and moods." When he opens his collection to guests, he explains: "I enjoy that people enjoy the works in my collection. Everyone reacts in some way. And I don't think there's one right way to look at a painting." Insisting that art doesn't have to be snobby, he jokes about how he paints in his office "pretty much into shapes on that end and people on that end organized. Nothing particularly sophisticated happens there."
"It has more voices. It's like a choir"
For him, "One of the beautiful things about art is that it rewards any level of commitment." He fixes his gaze on one of my favorite pieces in the room and explains that he enjoys "listening to artists talking about their art, more than I enjoy talking about art myself". He tells me how the artist behind this "underwaterjPlay was "grown up in Tehran" and tries to reclaim her memory of what cinemas looked like in her city. So they can equally "react to it as a blue painting" or, perhaps more profoundly, "as an evocation of memory". Ultimately, he believes that "art – and the creation of artworks – inspires people," and goes on to explain that he is a trustee of the Koestler Trust, which "encourages the creation of art by people in prison."
As we move from the office to the tour of the lodge itself, there is a clear effort to curate a bold collection, not only featuring diverse pieces, but by diverse artists. From the urinal he tells me he plans to make the centerpiece of his "gallery room" to the stunning "You Too Can Touch the Moon" photo by Tejal Shah, there's something for everyone. He explains that "Art that is representational is a really interesting subject for me. A bit like hanging out with friends." Sir Richard tells me how "I once looked at my collection and realized it was 75% male or that I had a lot of Indian art", but "I had no British Asian art". He encourages people to push themselves to "diversify" their perspectives and broaden their horizons. Not only has the principal of Robinson College enjoyed the process of diversification, he says his "collection is more interesting" because "it has more voices. It's like a choir."
University is the independent newspaper of the University of Cambridge, established in its present form in 1947. In order to maintain our editorial independence, our print newspaper and news website does not receive any funding from the University of Cambridge or its constituent colleges.
We therefore rely almost entirely on advertising to fund ourselves and we expect a tough few months and years.
Despite this situation, we will look for inventive ways to serve our readership with digital content and of course also in print!
We therefore ask our readers, if they wish, to make a donation of £1 or more to help cover our running costs. Thank you, we hope you can help!