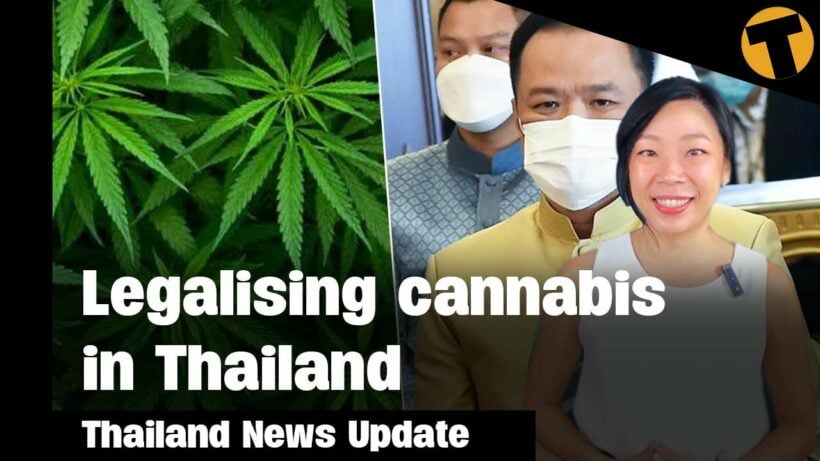 Thailand News Update | Legalize cannabis and 8 million tourists to Thailand in 2022
Thailand's Tourism and Sports Ministry dusted off its calculator this morning and forecast that at least 8 million tourists will come to Thailand this year. A few weeks ago they forecast 10-5 million arrivals for 2022. Tourism and Sport Minister Phiphat Ratchakitprakarn made the coincidental prediction at the same time he told Thai media he was pushing for the Test & Go program to resume next month. He will propose this at a meeting of the CCSA this Thursday. The Test & Go program was part of the Thailand Pass re-entry options, which allowed fully vaccinated travelers to arrive in Thailand and only have to go through one night of quarantine at a SHA+ hotel while awaiting their hopefully negative PCR test results. The minister said that … the resumption of Test & Go in February leaves enough time to reach 8 million arrivals this year. The Department of Health is proposing to completely remove cannabis from the narcotics list, which is a way for households to legally grow the plant. Cannabis has been in a twilight zone in Thailand for a number of years as parts of the plant and who can and cannot grow it have been gradually legalized. But actual recreational use of marijuana remains a criminal offense… as a Category 5 narcotic. But now Health Minister Anutin Charnvirakul says the ministry is taking another crucial step towards decriminalizing the plant after a Narcotics Subcommittee removed cannabis from its narcotics list. This draft list will be reviewed tomorrow. The Public Health Minister's political party, Bhumjaithai, competed in the 2019 general election on a platform to legalize marijuana. Bhumjaithai also controls the balance of power in the country's coalition government. To take legal action against traders who sell products at inflated prices, the undersecretary of Thailand's trade ministry says he will run "war rooms" to combat the higher prices. The director-general of the Department of Commerce's Domestic Trade Department said the department has urged manufacturers to freeze their prices for as long as possible to ease the burden on consumers. He added that manufacturers who increase their prices are now required to disclose their increased production costs. The ministry plans rebate campaigns and low-cost programs with discounted items such as pork, chicken and eggs available in department and convenience stores, as well as fresh markets, mobile grocers and other easily accessible locations. Thailand sees a sharp rise in prices for common products, especially meats such as pork. Things like gasoline and LPG have also risen sharply over the past year. Apparently one million people want to expel Amnesty International from Thailand. According to a spokesman for the prime minister's office, he has collected a million signatures for his campaign against the withdrawal of the non-profit association's operating license. The deputy minister, nicknamed "Rambo Isaan", accuses the NGO of threatening the country. Amnesty International Thailand has been vocal for human rights during the crackdown on the pro-democracy movement, calling for an end to police violence against protesters and the release of detained protesters. The junior minister is pushing for a bill that would require NGOs to disclose their sources of financial support, both local and international, among other financial details. It also calls for NGOs not to organize activities aimed at undermining national security or creating conflict in Thai society. According to a poll by NIDA over the weekend, around 52.4% of respondents agree that NGOs should disclose their sources of funding. Amnesty has faced threats in Thailand in the past. Police investigated it last November after a request from a network that claimed it had undermined security. On to some regional headlines… and Indonesia is building a new capital… because Jakarta is sinking. According to Indonesian President Joko Widodo, the new capital will be built in the province of East Kalimantan on the island of Borneo with the name "Nusantara", which translates to "an archipelago". The new capital is around 2,000 kilometers northeast of Jakarta and will also provide land for foreign embassies and representatives of international organizations to relocate their offices to the new capital within 10 years of the start of the move. Jarkata will remain the country's financial and commercial center despite the city's problems of chronic traffic, pollution, overpopulation and coastal flooding, and the need for a new economic engine away from Java, and with good reason.Jakarta is sinking at a rate of 2 to 10 centimeters per yearbetween 2019 and 2020. The Malaysian Civil Aviation Authority has allowed the entry of two new airlines despite the industry being hit by the disastrous effects of the Covid-19 pandemic. According to the Malaysian Aviation Commission, the newly formed ultra-low-cost airline MYAirline is close to starting operations once it has received an air services license. A new Johor-based airline, SKS Airways, received its ASL on December 22 last year. The two new airlines plan to offer passenger and cargo services similar to those of existing Malaysia Airlines and AirAsia Group. If you're in Singapore, get your camera out. The Southeast Asian country has been named the most 'instagrammable' place in the world by the English publication Big 7 Travel. The publication noted that Singapore has many Instagram-worthy spots, "from the iconic Supertree Grove in Gardens by the Bay to the vibrant kaleidoscope of street art across Haji Lane." , there is almost always a unique exhibition, perfect for those "wow" pictures. Boracay, Philippines followed in second place, followed by Oahu, Hawaii in third place. Paris, Istanbul, Turkey, and Dublin, Ireland were among the other cities on the list.
Subscribe to or Join our YouTube channel Become a Thaiger Legend or a Thaiger Hatchling today for behind-the-scenes footage and other members-only perks.