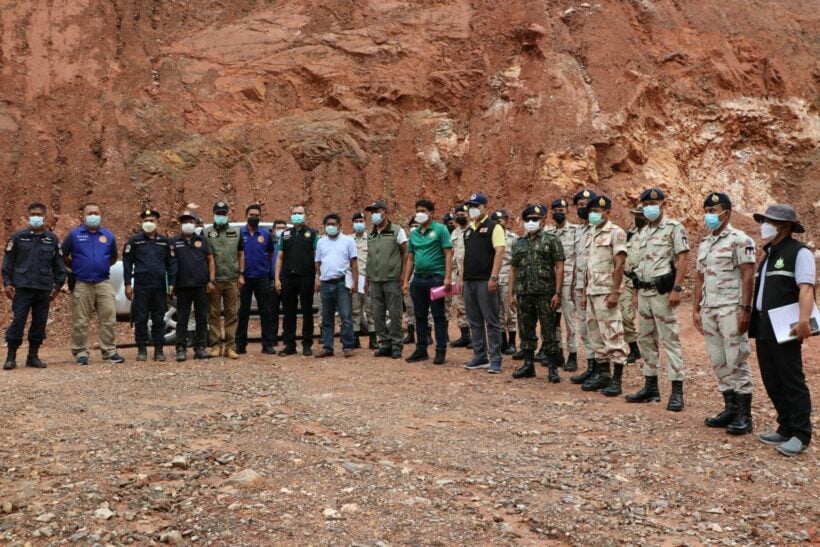 UPDATE: Excavation banned on hilltop in Phuket, further investigation
THE NEWEST
Officials have banned further excavation at the site after Thai media reported that construction tools and trucks were digging up soil on a hilltop in Kamala, a town in Phuket. Kathu District Chief Siwat Rawangkul confirmed the ban when he and other officials revisited the site on Tuesday. He said no government agency has granted planning permission for any form of construction.
Now officials have 7 days to determine which local administration is responsible for the place where the activity took place. It lies on the border between the sub-districts of Kathu and Koh Kaew. Thai media outlet Isra News reported last week that the site is 90 meters above sea level, making any construction illegal.
Siwat said officials are also examining the land use document that was submitted to claim the land. He said the NorSor 3 document appears to have been issued for a plot of around 40 rai, but construction on the site was only around 4 rai. In Phuket, using a land title document to claim another property is known as "Flying SorKor".
The Department of Natural Resources and Environment is also investigating the dig to determine whether any environmental laws have been violated.

ORIGINAL STORY
Officials are now investigating the alleged illegal land excavation after Thai media broke the news that an excavator was seen digging up soil and loading it onto trucks in Kamala, a town on the central west coast of Phuket. Isra News Agency, the Thai media platform that first reported the incident, published photos of what appears to be a construction site on a steep slope in the Kamala Hills on Thursday. The site is reportedly near a "famous golf course."
The next day (May 6), Phuket Public Relations Bureau announced that the relevant authorities had inspected the area and there had been 2 investigations. Officials investigating the site were from Phuket Provincial Land Office, Phuket Forestry Ministry, Phuket Town Forest Conservation and Development Unit, Kathu District Office and other relevant agencies.
The team that inspected the site reportedly found no one there and no construction equipment was there when the team investigated. Officials nevertheless took photos of the site, which were posted on PR Phuket's Facebook page. PR Phuket noted that the area appears to be operated by the Electricity Generating Authority of Thailand.

In its report on the site, Isra news agency said excavating the site could violate many laws, including encroaching on a protected forest reserve.
"Excavating earth in such steep hilly areas without permission from the proper authorities can violate many laws."
In March, an illegal construction incident took place in southern Thailand when an unnamed party was allegedly building a road on a historic mountain in Songkhla province. The mountain is Khao Daeng. It has historical archaeological structures. The message was shared by civic groups who gathered at the local arts bureau to support the authorities Bangkok Post Many trees were felled and earth was dug.
SOURCE: The Phuket News | The Phuket News